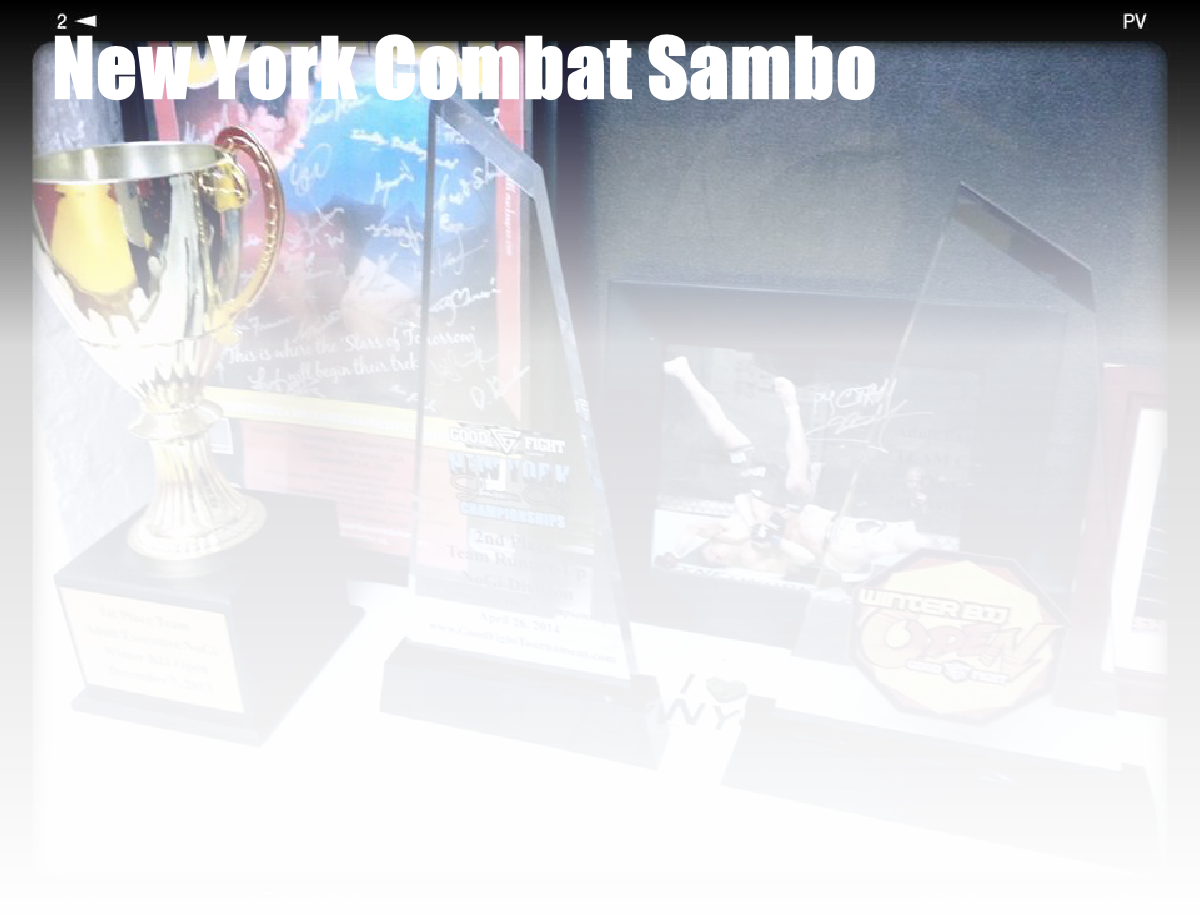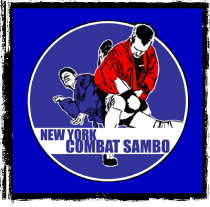 New York Combat Sambo is a division of American Sambo, LLC © 2003-2017 All rights reserved.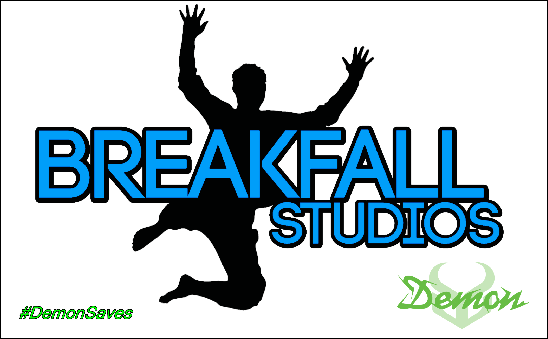 BREAKFALL STUDIOS
New York Combat Sambo and Flow Krav Maga are proud to offer the New York stunt community a free training space twice a week (On Wednesday from 1-5pm and Sunday from 2-5pm) If you are a new or seasoned stunt professional and need space to meet, train or rehearse, New York Combat Sambo has made two weekly time slots available to you free of charge.
Finding training and/or rehearsal space in NYC is not always an easy task. With Breakfall Studios Open Training we hope to make finding time and space a bit easier. If you do plan to come we ask you to please shoot us an e-mail at samboinfo@yahoo.com or post on our Facebook group and let us know you plan on coming. We will also put you on our mailing list at your request.
RENTALS
If you are a stunt coordinator or production interested in renting our space, please contact us and we would be glad to work with you. We have an intimate matted space with a wide wide range of mats, pads, targets, trainer and prop weapons at your disposal (no rigging capability).
FACEBOOK GROUP
If you are in the stunt community and wish to join our Facebook group, please send us a member request!
WHO IS THIS GROUP FOR?
If you don't have at least intermediate level martial arts or related skill (circus, tricking, gymnastics, etc), at least 1 SAG-AFTRA stunt credit and a reference from a current group member or respected member of the stunt community, the open group is not really the right place for you...YET! We want everyone to train, but the open training in not meant to be an environment to just get your feet wet or start learning basics.
Never fear! If you never learned how to roll, tumble or breakfall; hold a firearm or weapon properly; or throw a basic jab - cross - round kick combination; execute a basic hip throw; we want to help get you up to speed! If you are an actor who just wants to learn some basics, or an aspiring stunt person that never had the opportunity to learn, we offer workshops and intensives just for you! Keep an eye on our schedule!
BREAKFALL STUDIOS at NY Combat Sambo is supervised by Stephen Koepfer and Paul Varacchi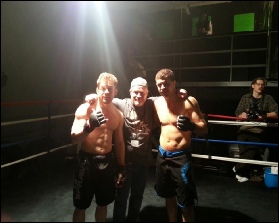 On the set of "Choke Artist" with Al Iaquinta and John Bowman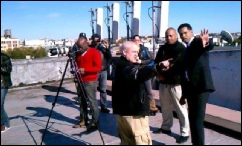 On the set of "Been Around the World" with Jabari Gray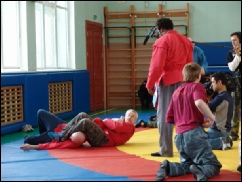 On the set of Travel Channel's "Dhani Tackles the Globe"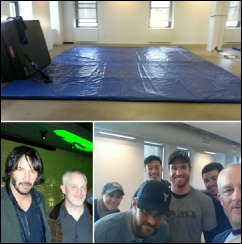 On the set of "John Wick: Chapter Two" with 87Eleven Action Team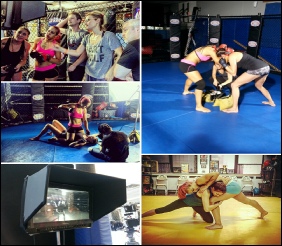 On the set of "Fighting Words"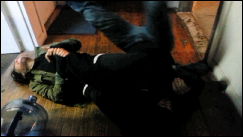 Still from a Breakfall Studios pre viz fight scene.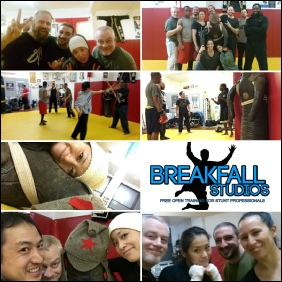 10/8/17 WORKSHOP: FALLING FOR ROOKIE STUNT PERFORMERS
This workshop is intended for rookie stunt performers with at least 1 SAG-AFTRA stunt credit or special ability waiver. It will be limited to 15 attendees maximum. 5 spots were filled since announcing the workshop on social media yesterday, so please do not wait to register.

As stunt performers know, it is incredibly important to be able to "hit the ground hard." But, it is equally important, if not more, to hit the ground safely. Basic breakfallS, it could be argued, is the most important and utilized skill a stunt performer will have in his or her toolbox. Yet, many rookies have never learned how to properly breakfall or hit the ground technically & safely...until they are on set and have to learn the hard way. Falling is an expected skill, yet it is all too often neglected or minimized by rookies.

If you want to fall "dirty," you have to fall clean first. You need to know the rules to break the rules. Our bodies are our most important assest. This workshop will focus on basic front, back, side and suicide falls from your feet, on various mats, hard surfaces, over objects, over people and from low elevations. Maybe other falls as well, depending on the group's progress. We WILL NOT do high falls. This workshop will be literally three hours of rolling, jumping and falling. Everything starts with falling.

WHAT TO BRING:
Elbow and knee pads. Comfortable clothing akin to wardrobe, not gym clothes (no metal buckles or hardware please). On the mats, wrestling or martial art shoes are welcome (no black soles). Bare foot is ok as well. Off the mats (wood floor), we would suggest you bring street shoes or boots. If you own a back pad, tailbone and hip pads, feel free to bring them (they are not required). We will have loaner back pads.

For those who do not own back pads, we will bring several designs and variations for differing levels of impact, profile, mobility, etc., for you guys to examine. We we also bring a variety of other body pads for you to examine if you are new to selecting body pads. If attendees are interested in purchasing back or other body pads, Breakfall Studios is sponsored by Demon United and we can assit you in purchasing items for your kit (there will be no mark up for us).

DAY & TIME:
Sunday, October 8th from 2 - 5pm.

LOCATION:
New York Combat Sambo/Breakfall Studios.
225 west 36th street, 3rd floor. NY, NY. 10018
917-617-5650.

REGISTRATION:
To reserve your spot, paypal $30 to samboinfo@yahoo.com
If you do not register in advance, you may not be able to attend
If you are not a rookie, but know someone who is and could benefit from this course, please feel free to pass the info along.
We also have a Facebook event page to comment, check in, or ask questions: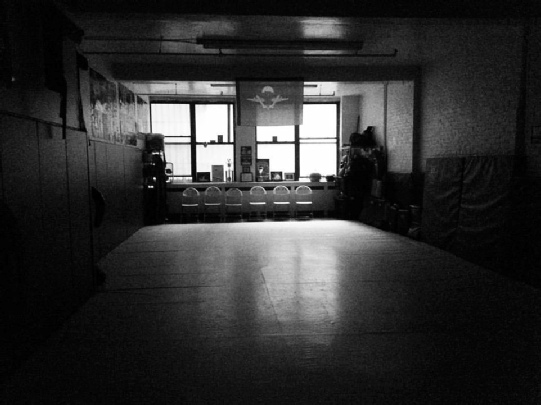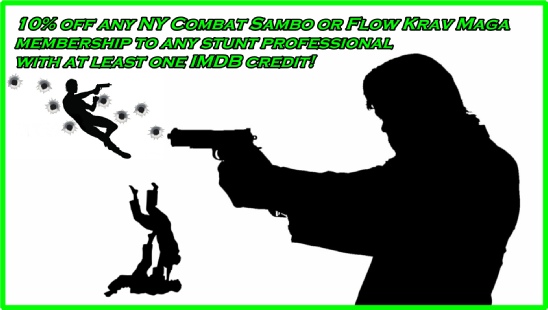 In 2017 Breakfall Studios co-produced our first film! Concrete and Crashpads: Stunts in New York.
2017 Winner, Award of Recognition, Best Shorts Competition
2017 Winner, Audience Choice Award, Iron Dragon Actionfest
2017 Nominee, Best Documentary Editing, Action On Film Festival
2017 Screening SAG-AFTRA Foundation "The Business" Series
2017 Official Selection Action On Film Festival
2017 Official Selection New York State International Film Ferstival
2017 Official Selection Rahway International Film Festival
2017 Official Selection YoFiFest International Film Festival
2017 Official Selection IIPM International Film Festival
2017 Official Selection Iron Dragon Actionfest
2017 Official Selection Manhattan Independent Film Festival
2017 Official Selection Movies4Movies Summer Film Festival
2016 Official Selection HBO/Cinemax Urban Action Showcase
Learn more about the NY Stunt Community! VIEW CONCRETE AND CRASHPADS NOW on ULTRAFLIX! Ultraflix 4K is available on Apple TV, Fire TV, Google Play, Hisence, Apple Store, NVIDIA Shield, ROKU, Samsung Tizen, Sony, Vizio and Windows 10.